My First Book is designed with the 1-3 years old child in mind. The book focuses on teaching your child practical life skills that they will carry with them into adulthood, such as shape and number matching and sorting, imaginative play and how to dress themselves (how to use zippers, ties, buttons, tying shoelaces and so on). With parental guidance, it will be particularly beneficial to their critical thinking, reasoning and problem-solving skills.
Recommended age 1-3 years old.
FEATURES:
Each lesson is designed by qualified and experienced teachers. Each lesson is devoted to your child's learning of a single skill.
The dinosaur on the cover page is left uncolored so to promote your child's creativity by coloring it in.
After your child completes all of the lessons, the book can be assembled into a backpack, allowing your child to bring it with them wherever they go.
The backpack is waterproof.
All materials are non-toxic and are safe to use

 

by

 

children.
Size Chart
---
If not specifically indicated in product description, please refer to the following size chart, especially the information of weight and height for selection. If you are hesitant about the sizing, please feel free to drop us an email at hello@moodytiger.com. We are more than happy to assist. 
All dimensions are measured in cm.
Free worldwide shipping on all orders!
*Ship from k11 musea (HK), you'll receive your package the next day after delivery.
*Due to COVID-19, we are temporarily unable to ship packages to International Area. Once we are capable of shipping packages to the international area, we will inform you as soon as possible.
Hong Kong Shipping Methods
FREE (All orders are shipped via SF Express. You'll receive your package the next day after delivery. )
*Under normal circumstances, the shipping time of the package will not exceed 2 days.)
Processing Time
We begin processing orders quickly, so we are unable to make changes after an order is submitted. If the item you ordered is not in stock or will be delayed, we will email you with an update on the status of your order. Your credit card is only charged when your order ships.
Shipping Destinations
Hong Kong
How Do I Know That My Order Has Been Shipped?
When your order has been shipped, we will send you an e-mail with your tracking number and a link to where you can track it online.
Need Additional Help?
Please contact us at order@moodytiger.com and we will be happy to assist you with any questions related to your order.
Returns Center
Moody Tiger Guarantees: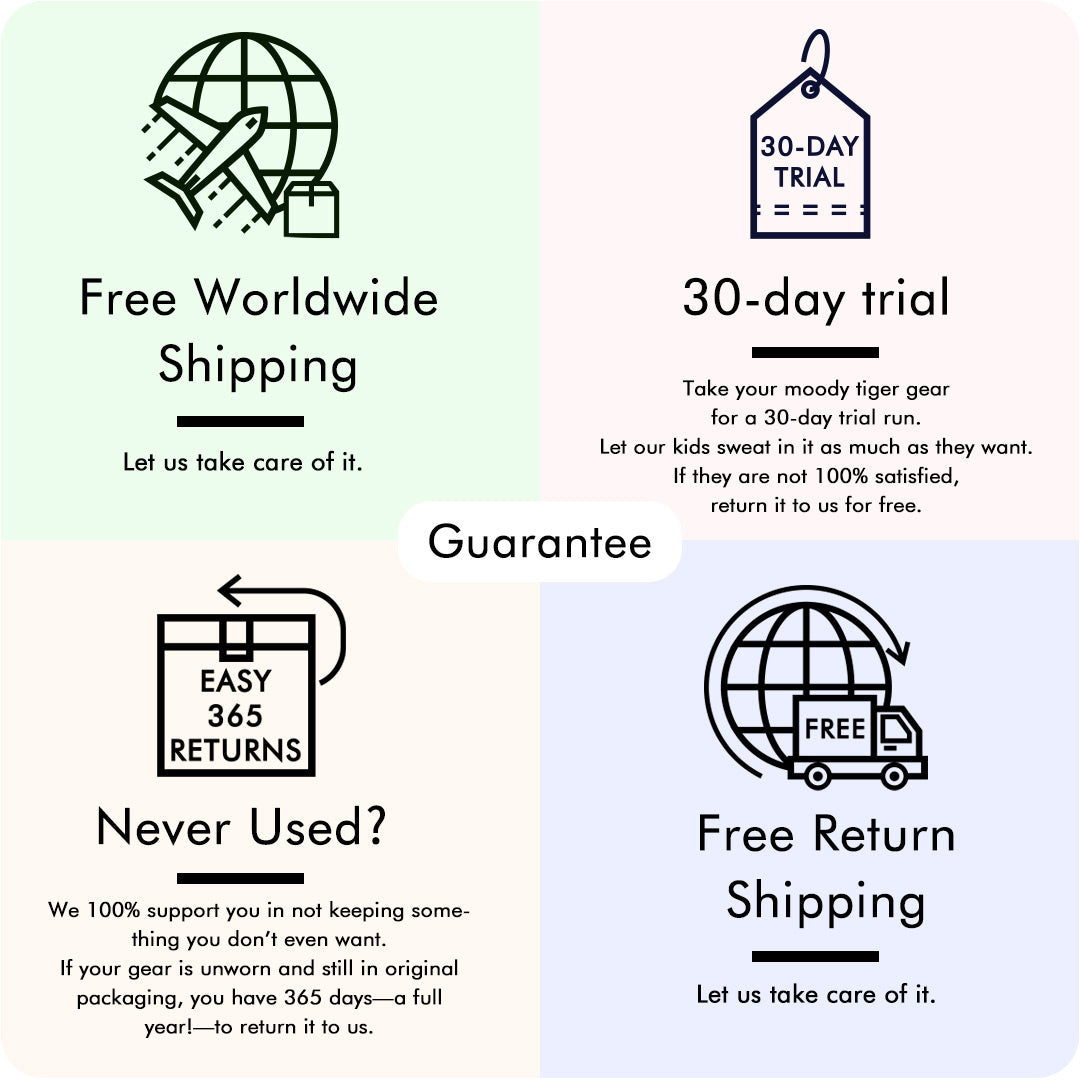 What Shall I Do If I Want To Exchange Or Return?
Simply contact us at order@moodytiger.com, and we will assist you through the process.
If you live in Hong Kong. You can either visit our retail store with the product or send the originally purchased products to us by post. Once we have received your parcel, we will contact you to confirm and send you the alternatives in 5 business days.  
Free Return Shipping
Moody tiger offers free return shipping on returns of items purchased on moodytiger.com.