UPF50+ Breezy Legging - Blueberry Marble
Why Breezy Leggings is way smoother, softer, and more elastic than General High-End Leggings?
The crucial points are our Craft and 82% Nylon:
36 Stitches per inch
In addition to the fabric quality, the stitching and seam strength is crucially important. As a general rule, the more stitches per inch, the greater the seam strength.
According to industry standard, 12 stitches per inch rates as "Professional". And our breezy leggings are 36 stitches per inch.
This allows our leggings to be ultra elastic while having Silky Smooth Feel and No-Friction Performance. So our girls can feel at ease and comfortable all day long.
Made from 82% NYLON
Nylon combines extreme elasticity with the look and Feel of Silk, which allows Breezy Leggings to be Incredibly Smooth and Soft.
Fabric Features: Nylon(82%)-Spandex(18%) 
🏷Dries Quickly & Moisture Wicking: Made from 82% NYLON. Known for its quick-drying characteristic, Nylon effectively absorbs moisture from the air and keeping our kids comfortable and dry.
🏷Ultra Stretchable: Made from 18% SPANDEX, spandex is known for being stretchy, but it wouldn't be very comfortable completely on its own. So we've developed this specific percentage, which allows the legging to be ultra elastic while still breathable and comfortable.
*Ship from HK, you'll receive your package the next day after delivery.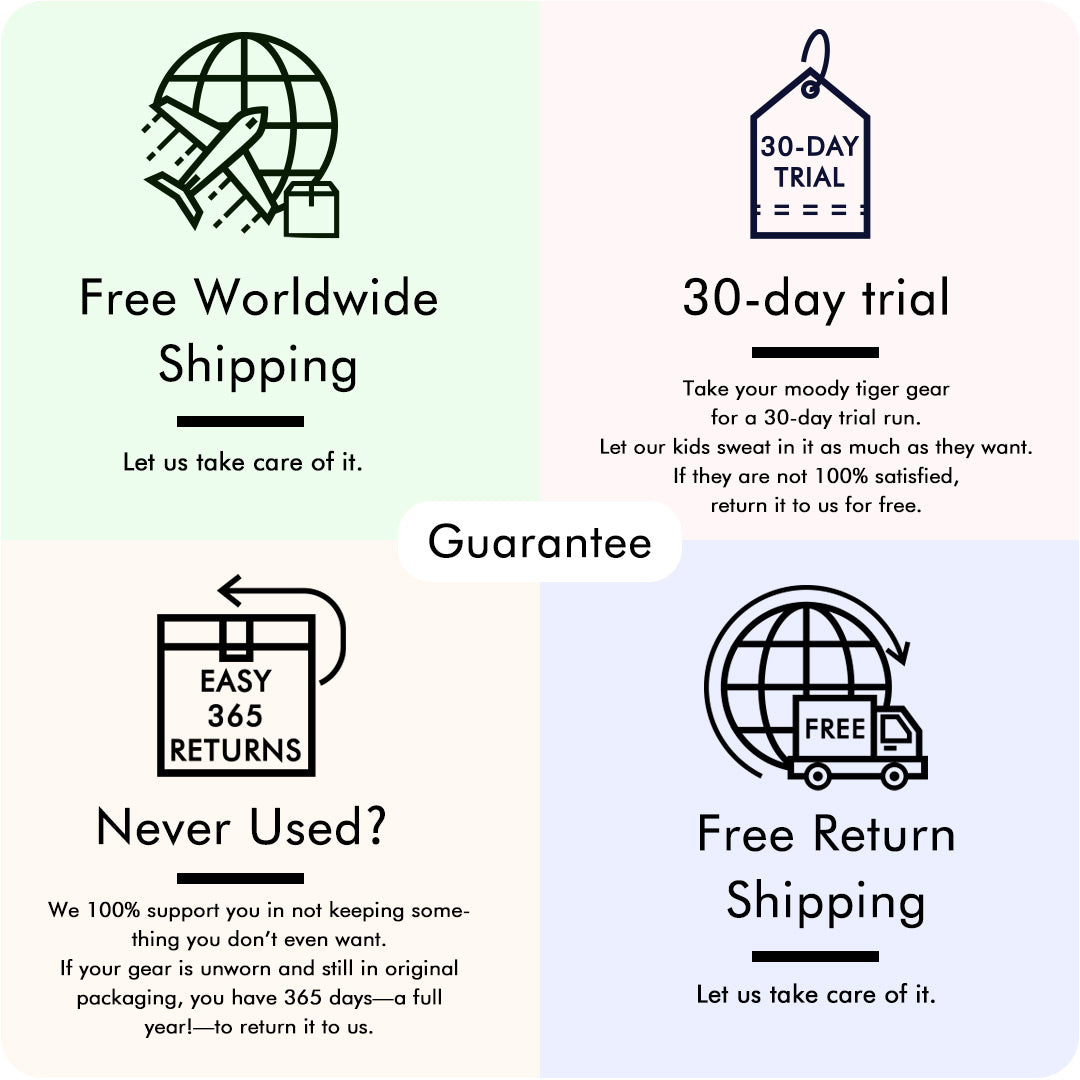 Size Chart
---
If not specifically indicated in product description, please refer to the following size chart, especially the information of weight and height for selection. If you are hesitant about the sizing, please feel free to drop us an email at hello@moodytiger.com. We are more than happy to assist. 
All dimensions are measured in cm.
Free worldwide shipping on all orders!
*Ship from k11 musea (HK), you'll receive your package the next day after delivery.
*Due to COVID-19, we are temporarily unable to ship packages to International Area. Once we are capable of shipping packages to the international area, we will inform you as soon as possible.
Hong Kong Shipping Methods
FREE (All orders are shipped via SF Express. You'll receive your package the next day after delivery. )
*Under normal circumstances, the shipping time of the package will not exceed 2 days.)
Processing Time
We begin processing orders quickly, so we are unable to make changes after an order is submitted. If the item you ordered is not in stock or will be delayed, we will email you with an update on the status of your order. Your credit card is only charged when your order ships.
Shipping Destinations
Hong Kong
How Do I Know That My Order Has Been Shipped?
When your order has been shipped, we will send you an e-mail with your tracking number and a link to where you can track it online.
Need Additional Help?
Please contact us at order@moodytiger.com and we will be happy to assist you with any questions related to your order.
Returns Center
Moody Tiger Guarantees: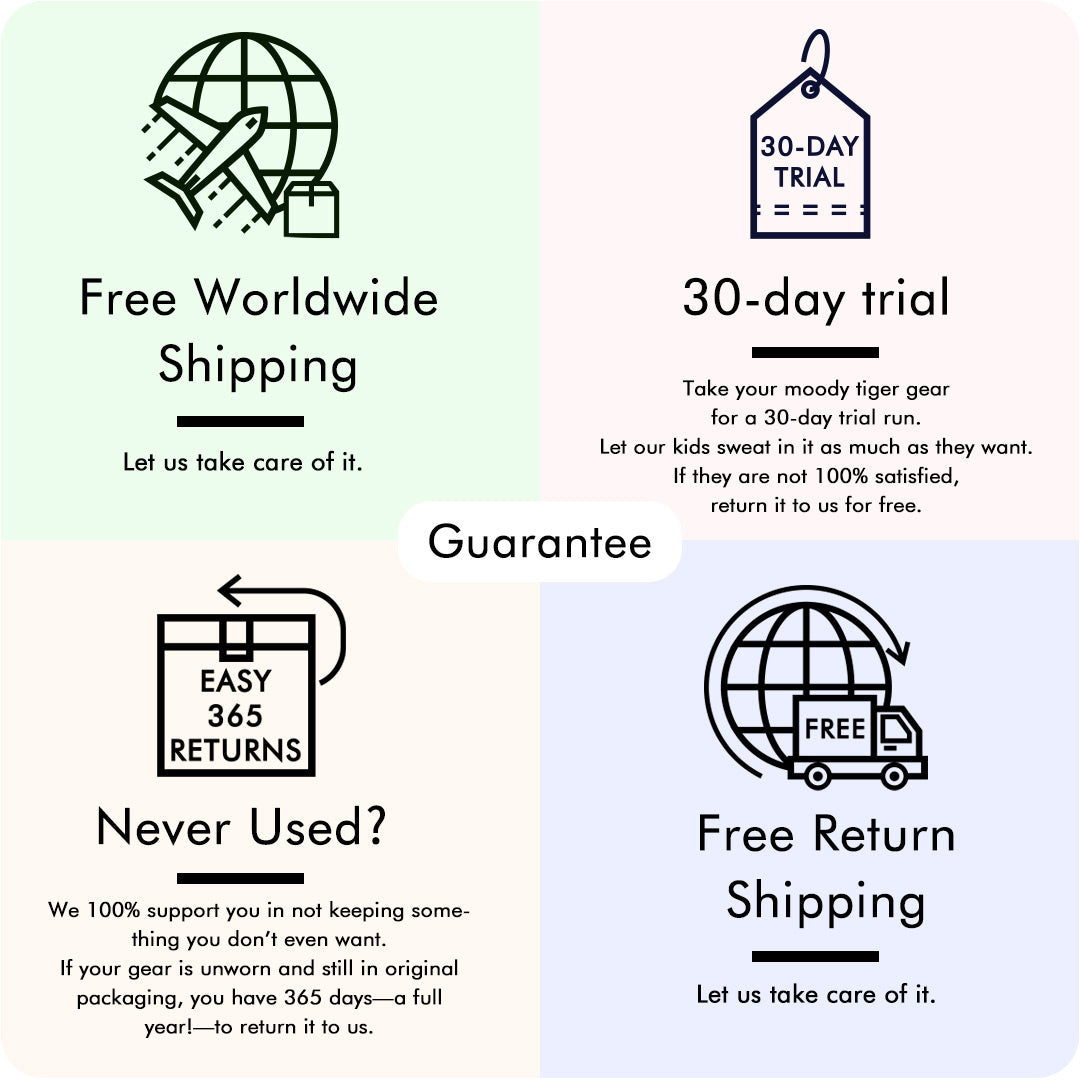 What Shall I Do If I Want To Exchange Or Return?
Simply contact us at order@moodytiger.com, and we will assist you through the process.
If you live in Hong Kong. You can either visit our retail store with the product or send the originally purchased products to us by post. Once we have received your parcel, we will contact you to confirm and send you the alternatives in 5 business days.  
Free Return Shipping
Moody tiger offers free return shipping on returns of items purchased on moodytiger.com.